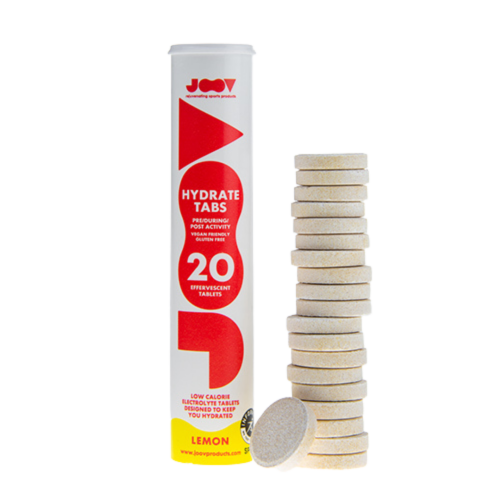 Work harder for longer, keep your body hydrated and replenish your electrolytes
Joov Hydrate Tabs are dissolvable tablets that can be added to water and used during your training or event to help reduce fatigue and replenish lost electrolytes.
Electrolytes are lost through sweat and can lead to muscle fatigue, cramping, and de-hydration, hydrate tablets prevent and slow this process from occurring. This product is suitable for vegans, are gluten free and only have 6 calories in per tablet.
Directions for use: drop one tablet into approx 500ml of water until fully dissolved before consuming. You can sip it throughout your training or event, and you can even consume it prior to training or after your event to reap the benefits.
| | | |
| --- | --- | --- |
| Typical Values | Per Tablet (4g) | Per 100g |
| Energy | 6Kcal | 648kj    |    151Kcal |
| Fat | 0g | 0g |
| Saturated Fatty Acid | 0g | 0g |
| Carbohydrate | 0.5g | 12.4g |
| Sugar | 0.016g | 0.4g |
| Starch | 0g | 0g |
| Protien | 0g | 0g |
| Fibre | 0.144g | 3.6g |
| Sodium | 0.35g | 8.8g |
| Potassium | 65mg (3% NRV) | 1625mg |
| Magnesium | 8.1mg (2% NRV) | 203mg |
| Sodium | 344mg | 8600mg |
| Caffeine | 78mg | 1950mg |